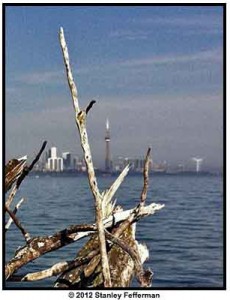 March 9, 2013. Roy Thomson Hall, Toronto.
The TSO's ninth New Creations Festival climaxed before a full house with the world premiere of A Toronto Symphony— a crowd-sourced collaboration of composer Tod Machover and "anyone in Toronto who wanted to participate," including 3rd and 6th graders.
Peter Oundjian conducted the Orchestra, digitally enhanced by the algorithms of MIT Media Lab processing into a "HyperOrchestra" in order to real-ize a 25-minute "musical portrait of this wonderful city."
We hear chord progressions depicting "Toronto waking up," mixed with'real sounds' and 'real voices' 'collected from all over the city.' Machover and his team rework these materials into "larger movements" that reflect "on what we've heard" and create "a sonic synthesis of it all."
The music is paired with a video showing shots of shoppers in Chinatown, and Machover savouring Toronto sights and enjoying summer in the The Beaches. He also rigged up a live feed to pipe the performance to the CN tower that repsonded with its own light show fed back into a screen in Roy Thomson Hall.
This project is "about the potential of technology and the power of ordinary people to do extraordinary things." The audience seemed to love it, and further performances, live or on video, might well inspire further musical projects in school and community groups. For me, A Toronto Symphony sounded more Hype than Orchestra, and this one performance was enough.
Andrew Staniland's Four Angels, also a World Première/TSO Commission, features orchestra plus pre-fabricated digital soundfiles and live sound processing of four solo instruments within the orchestra: the bassoon, piccolo, harp, and cello. The live electronics do extend the natural acoustic properties of the instruments to intensify orchestral colours with expressive 'plugged-in' sounds.
The swirl of winds, the blurt of brasses, the bray of bassoons are juicier for being enhanced; purely electronic hisses and swishes are effective ornaments, and resampled bass and tuba pitches modulate along a line of precise dynamic gradations to a silence that reverberates before it fades.
Four Angels is four tone poems inspired by and intended to evoke an array of "iconic 20th century photos." Its elegantly made lyric and dramatic passages, including impressive orchestral crescendos, are engaging enough, even without their backstories, to make this music worth more hearings.
Four Iconoclastic Episodes by Steven Mackey is one of my nominees for best composition of this festival (Krystof Maratka's Vabeni is the other one). Four Iconoclastic Episodes is unique for being a collaboration or double concerto for acoustic violin and electric guitar. It is unpretentious— Mackey calls it "Mutt Music"—for being without electronics excepting   guitar amplification and pedals.
Rock-fusion recollections of John McLaughlin's Mahavishnu Orchestra, early King Crimson, overdriven, zingy Hendrix, snatches of half-remembered African music dance, in propulsive post-minimalist rhythms and baroque contrapuntal dialogues. Pekka Kuusisto's violin and Mackey's ax skillfully navigate traditional polyphonic forms including a chaconne. However you cross-over the worlds of music, Mackey's Four Iconoclastic Episodes is the best of both.
Composer photos courtesy of Eric Fefferman Photography.