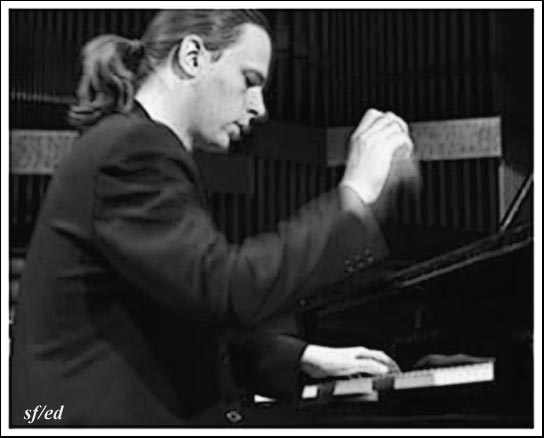 Tuesday,September 20, 2011, Walter Hall, Toronto.
Given that Markus Groh is justly celebrated by Gramophone for the "supreme control of his instrument and sensitivity regarding timbre and texture," he still surprised me with magical effects in strongly chromatic passages..
Listening to Chopin's  posthumous Waltz in E Major, I noted: "Groh's colours shine,—like a street-corner hurdy-gurdy man, like carny music,  like Viennese grand ballroom.".
Listening to Chopin's other posthumous work, the Waltz in E Minor, as Mr. Groh shot a sparkling gaiety through the texture of dark, thundering chords, these words of Bob Dylan came to mind: " Whatever colours you have in your mind/ I'll show them to you and I'll make them shine.".
The strangely introverted Polonaise in E-flat Minor, Op. 26, No. 2,  developed a lawless drama: it seemed to possess an intelligence articulating feelings one hears in music of today, be it classical or even jazz: a live sound.  The same intelligence animated the bouyant style Mr. Groh brought to the Waltz in A-flat Op. 69.No. 1 ("Farewell"): and beneath its burnished surface lurked a quirky sense of humour.
He deftly delineated the characters who dance in ample tones through Schumann's 13-part dramatic masque, Papillons Op. 2. The title refers to the notion that the musical ideas (rather than the narrative content)"undergo metamorphosis and circle around in…a Larventanz, [a dance of larvae] rapidly emerging and taking flight as butterflies."
Variety is the spice of Brahm's Variations and Fugue on a theme by Handel, Op. 24. The twenty-five variations, are unified by mostly being in the main key of B-flat. They vary by alternating major and minor, staccato and legato, moods lyric and mysterious. Forms change: capriccio followed by czardas, succeeded by siciliano, musette, canon and fugue. Brahms is saying, in protest against the New German School, that there was still plenty of life in old classical forms provided there was a mind behind them.
Groh says all that. But he says it like a man working to free himself from the old classical forms that he has mastered. I hear him singing, behind the Haydn and Brahms, like the Miller of Dee, the refrain "I care for nobody no not I, and nobody cares for me."  The bass lines that were so important to Brahms' purpose are often muted by high-heeled clamour of sixteenth notes.
This performance was a celebration of Brahms ornamented by the kind of antic disposition one remembers in Glenn Gould. It left me wishing that after his generous 4th encore, Markus Groh had offered some of his own improvisations.
Your comments are welcome HERE
Brahms' Variations on Handel is Here
Chopin is everywhere.