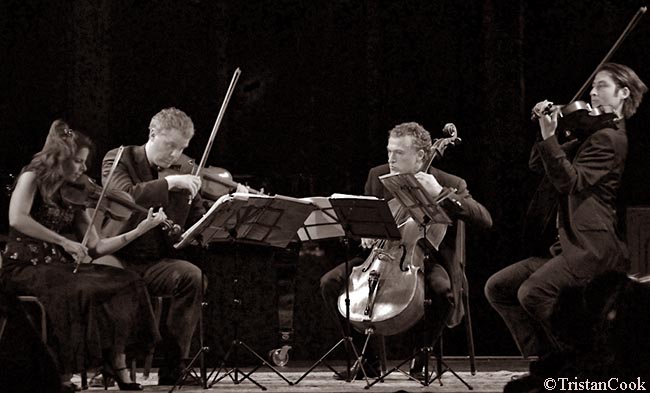 Friday, July 26, 2013. Walter Hall, Toronto.
The Pacifica Quartet with Clarinetist Alexander Fiterstein made the Toronto Summer Music Festival a 'starry, starry night.'
First violinist Simin Ganatra is a sensitive extravert who radiates animation, something in the manner of  Geoff Nuttal who leads the St. Lawrence Quartet. Cellist Brandon Vamos has a watchfulness and expressive perfection that helps hold the group together, much like the St. Lawrence's Chris Costanza.
The Pacifica's recordings of Elliott Carter Quartets, won them a Grammy, and their recordings of Shostakovich Quartets is becoming the new benchmark.
Second violinist Sibbi Bernhardsson opened the Haydn String Quartet No. 63 in B-flat Major, Op. 76 No. 4  softly, but rising like it's nickname, "Sunrise." The theme continues its gentle ascent as the first violin's filigree is warmed and expanded by the ensemble into a dramatic and spirited display verging on the 'Romantic.' In executing the many shifts of tempo and dynamics in Haydn's quirky Quartet, the Pacific  seemed to go more for flow and a less for classical crispness, which was interesting but not totally satisfactory.
Their Ravel String Quartet in F major was perfect. Just that. The shimmering ensemble work and cyclical return of theme sometimes lifted me right out of the room into a world of pure song, or so it seemed. Pizzicati that dominate the scherzo bejeweled the finely woven fabric of all the movements with syncopated rhythmic figures.  The rightness of Brandon Vamos's touch on his cello was an unfailing pleasure. I enjoyed Sibbi Bernhardsson's softly flowing violin part in the languid trio, and the thrill of his glissando. Violist Masumi Per Rostad led the exchange of tasteful lamentations that begin the nocturne, keeping up a beautful exchange with the cello's growl until the movement rises like a skylark and fades high in the sky.
Ravel is said to have admired Mozart above all other composers. When working out the ideal qualities of his own music, in which he sought a "balance of symmetry, surprise, clarity, craftsmanship and a measure of lyricism", Ravel's motto was "WWMD?…What Would Mozart Do?" Whatever it was Mozart would do, he did it in his Quintet for clarinet and strings, K. 581. His Quintet established the genre, inspired Brahms to emulate it without hope of approaching it's beauty, and so on.
 In this town where  star clarinetists Joaquin Valepeñas lives and James Campbell often visits , Alexander Fiterstein also did it with his stellar performance. On Mr. Fiterstein's next visit to Toronto it would be a treat to hear what he can do with the Brahms Quintet or one of the Sonatas as well as a contemporary piece, and he should be allowed to do it in Koerner Hall.